Hello hello Friends, How are you today!! Wow! How has it come to be day 29 already? The last week of The 30 Day Coloring Challenge is full of giveaways and today I have a giveaway from Winnie & Walter! YAY!!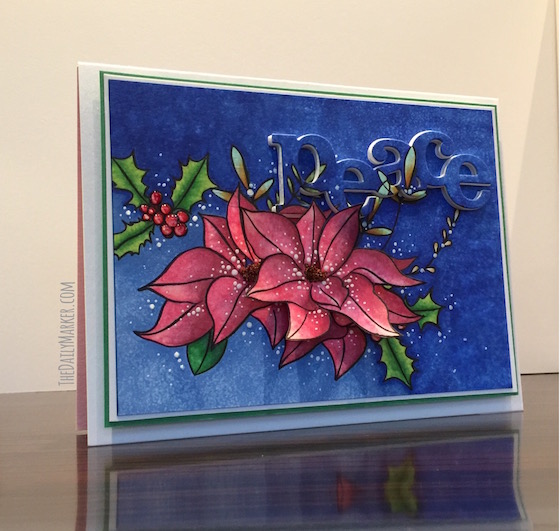 It's truly an honor to be a guest designer on the Winnie & Walter  blog sharing their awesome new release.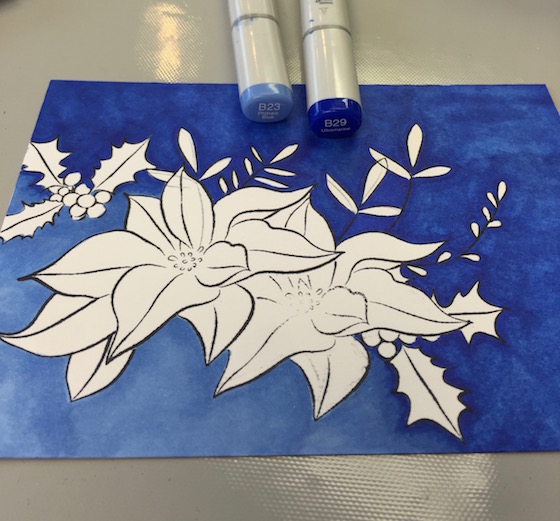 The W&W stamp sets are 6×8 and are chock full of stamps in each set. If you look closely I did a bad job stamping but, just ran with it. I picked two colors for my background to hide my messy stamping. (haste = waste)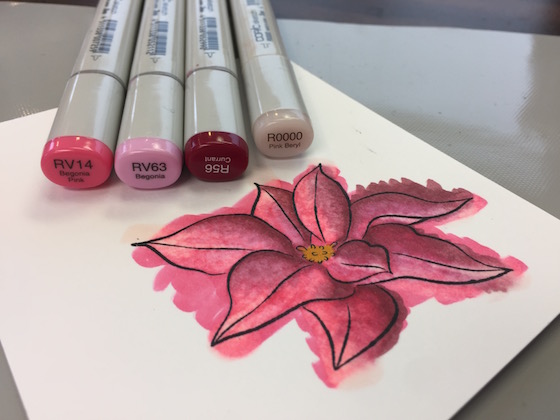 This one was to be cut out and layered. In the final card I added some flower soft to the centers and lots of white dots with the one and only white gel pen.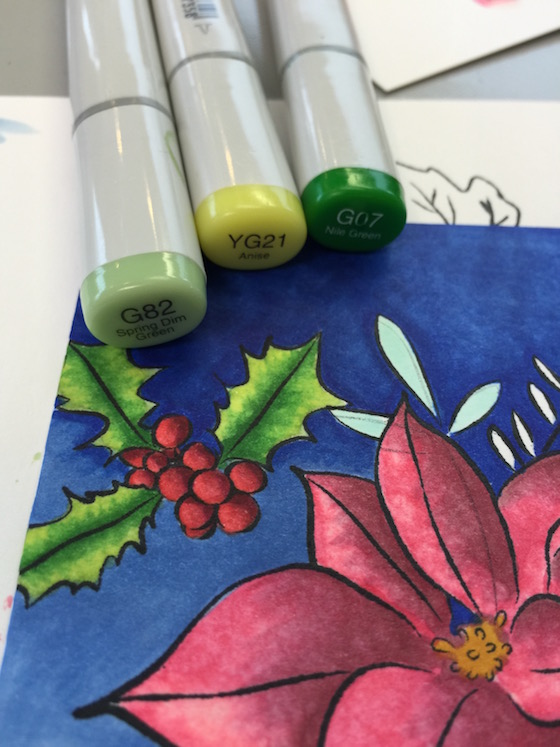 Seriously I LOVE holly and these poinsettias are beautiful! Swoon!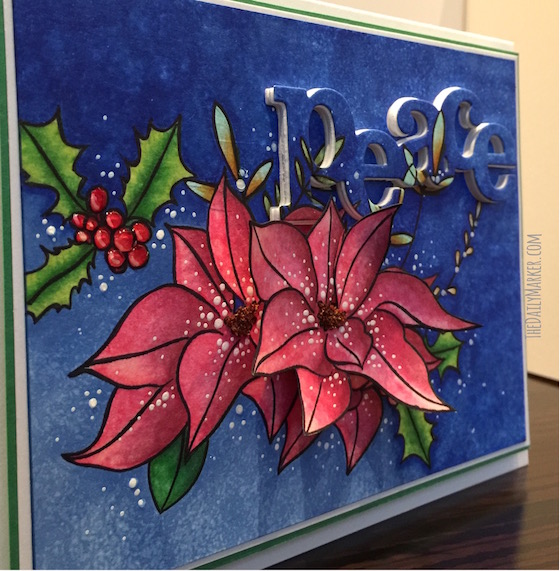 I have been popping a large sentiment on my cards for over a year and have always cut layers and layers. Today I tried the fun foam that Jennifer McGuire uses and that foam was dreamy and sooo much faster. You might want to add it to your wish list it's a must have. 🙂
I have a SNEAK PEEK OF TWO OTHER PROJECTS below.  You can see the full tags and card at the Winnie & Walter Blog here.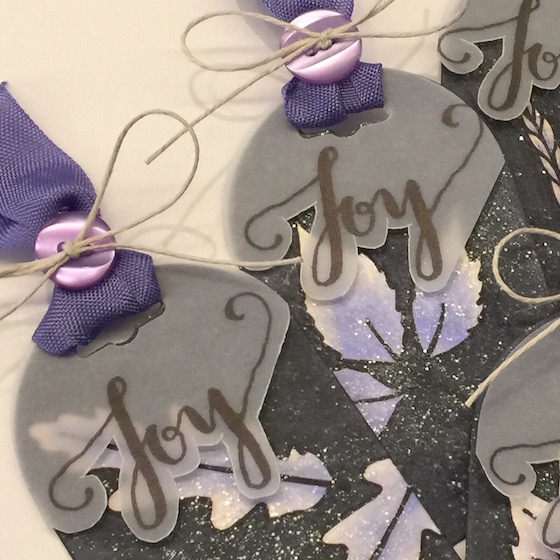 My set of five tags gave each leaf stamp center stage. I used some rock candy to add a beautiful crystalized glitter to each tag. The vellum was had cut to add a different element on the tags. I hope you like them.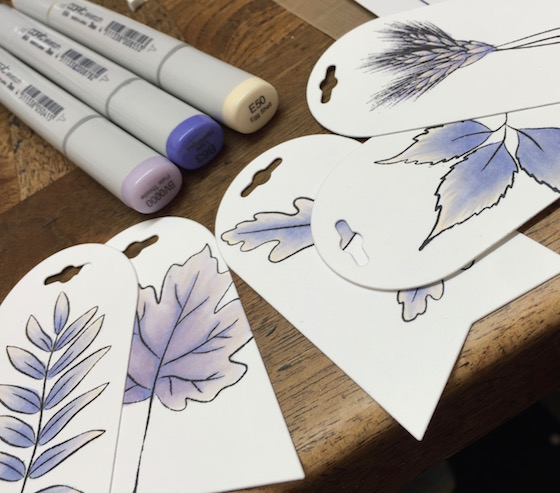 Love love love leaves! See the full set at the Winnie & Walter blog.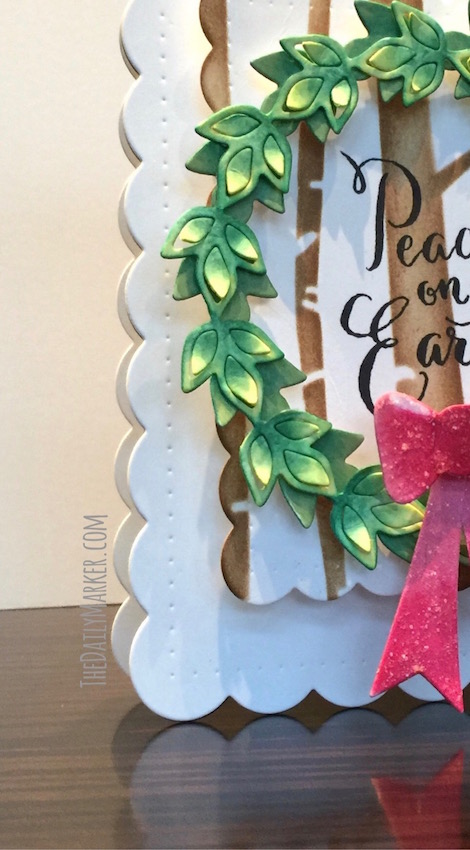 Lots of great product on my card and more rock candy on the bow. The leaves didn't pop right out of the wreath so I colored them, flipped it over and added glossy accents at the bottom of the leaves to hold them in place that way I could flip up the tips once the glue dried.
GIVEAWAY: Winnie & Walter is giving away a $25.oo gift code to their store. All you need to quality is add your name on the list below. 
Thanks so much for your visit today and a super big thanks to Winnie and Walter for the feature on their blog today. See you tomorrow. Hugs, Kathy

P.S. TO LINK UP & share your coloring click here and go to the bottom of the post. In case you missed it you can read all about the 30 Day Coloring Challenge here.
P.S.S.If you wan to see what everyone is submitting for The Daily Marker 30 Day. Click here to see what is being shared on my blog but,  you need to scroll to the bottom of the post. You can click here too to see everything under the hashtag #thedailymarker3day3 that's on Instagram.
Today's Card Supplies & Links: Click on the thumbnail to go to a store. Affiliate linking might be used depending on the product