Hello Friends, How was your weekend? I hope it was a good one. I am thoroughly enjoying the fall colors in our area and the rustle of the leaves on the ground. If I can get a good photo I will post one.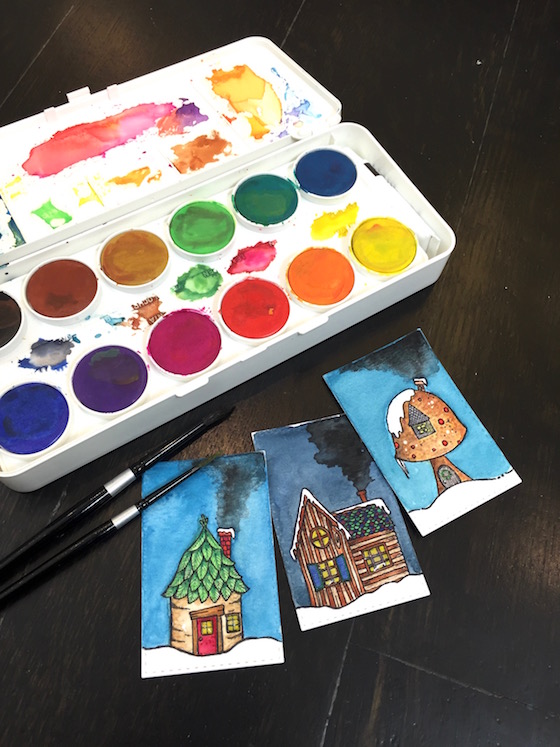 Today I have a Giveaway for you! Yipee!! (more on that later)  I know you all love the Purple Onion Design Stamps and today they are showcasing their new release by Stacey Yacula. As you might imagine the images are absolutely adorable!!!  I love these houses they are soooo cute!! I am itching to color them with some markers and make a little scene. My watercolors were feeling neglected so I gave them a little attention. I grabbed an opaque set so the watery transparent look I wanted didn't happen but, these will be good to use on some gift tags or for a quick card later.
(When I am inking up their stamps I use a little bit of double sided tape on a clear block and stamping is easy).
 Purple Onion is offering a limited time introductory special price when purchasing the entire 30 stamp collection.  The complete collection is $100.00 until November 4, 2015. Wow that's a great value!!! 
GIVEAWAY!!! THESE THREE HOUSES ARE UP FOR GRABS!!  … how sweet is that!! All you need to do is leave me a comment. I will announce a random winner a few days after the challenge! After you leave your comment hop on over to The Purple Onion Blog and check out the entire release. Maybe you can leave them a little love. *wink*. Stay tuned for lots of Giveaways this week & a big thanks for your visit. Also a shout out to Purple Onion Designs for the great giveaway! See you tomorrow. Hugs, Kathy
P.S. TO LINK UP & share your coloring click here and go to the bottom of the post. In case you missed it you can read all about the 30 Day Coloring Challenge here.
P.S.S.If you wan to see what everyone is submitting for The Daily Marker 30 Day. Click here to see what is being shared on my blog but,  you need to scroll to the bottom of the post. You can click here too to see everything under the hashtag #thedailymarker3day3 that's on Instagram.