Hello Friends, I hope your week is off to a good start! Today I have a card makeover for you with a beautiful  Power Poppy image.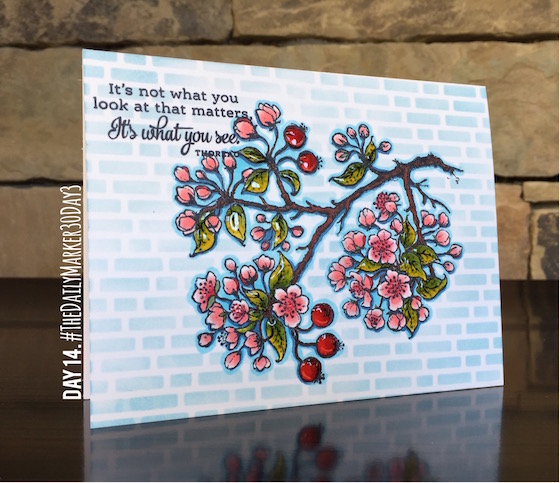 This photo is the result of the makeover and I am happy with the results. I colored this last week and for some reason I wasn't ready to share it because it needed something else…..A MAKEOVER!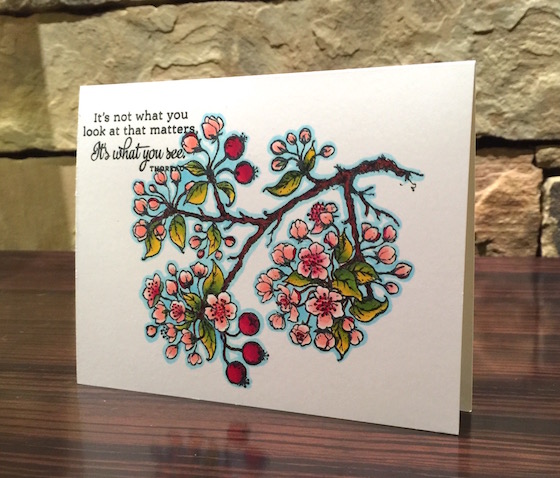 It's such a beautiful image I wanted to give it more love when I had some spare time so I tossed it aside.
I have been outlining my images with a blue marker (Boo or Booo) for years. Love how it makes things pop. As you can see I didn't use many colors and so my coloring came together without spending a lot of time.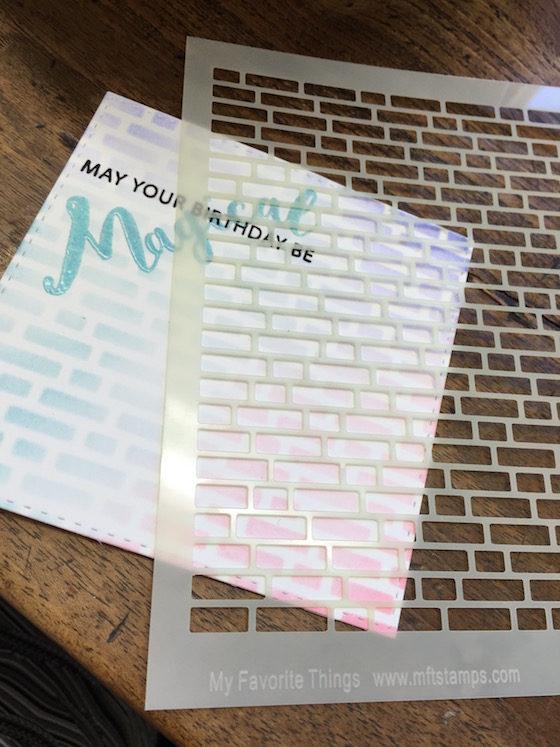 You might recognize this stencil because I used it yesterday. Sometimes if you clean up to quick …like it's ok to have some Sh*t  laying around… some happy accidents might not happen otherwise lol. Because my stencil was right there I grabbed some salty ocean distress ink with a dauber to put a light layer of ink around the image. I wasn't super worried if it went on the flowers because if you have a light hand it usually works out fine.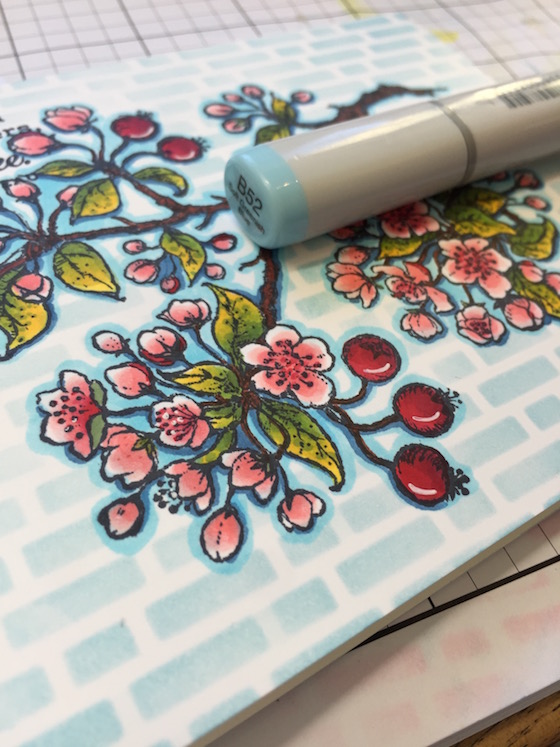 I like how the rectangles looked behind the soft round flowers. I wanted to add a little more depth to image so I grabbed a blue (B52) and added a line around the bottom portion only of each flower, bloom and branch.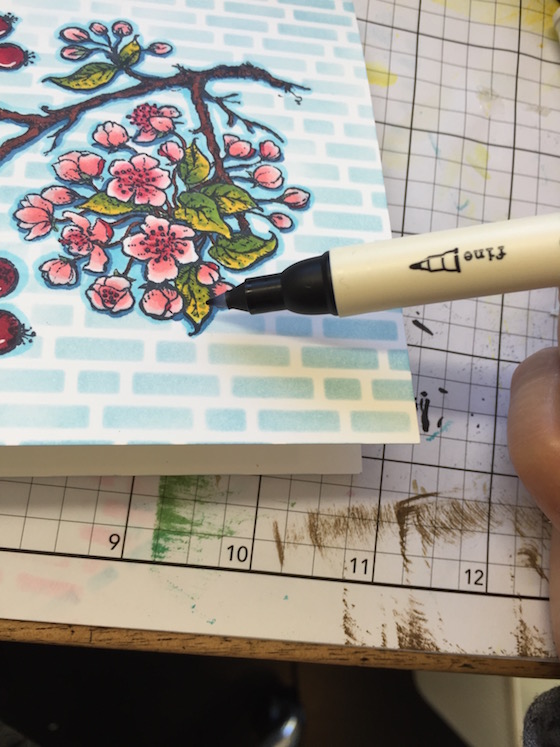 I love the small tip end of the distress markers because it's great for adding microscopic dots to leaves and such. In this case I added navy to my green leaves. (my brown was dry)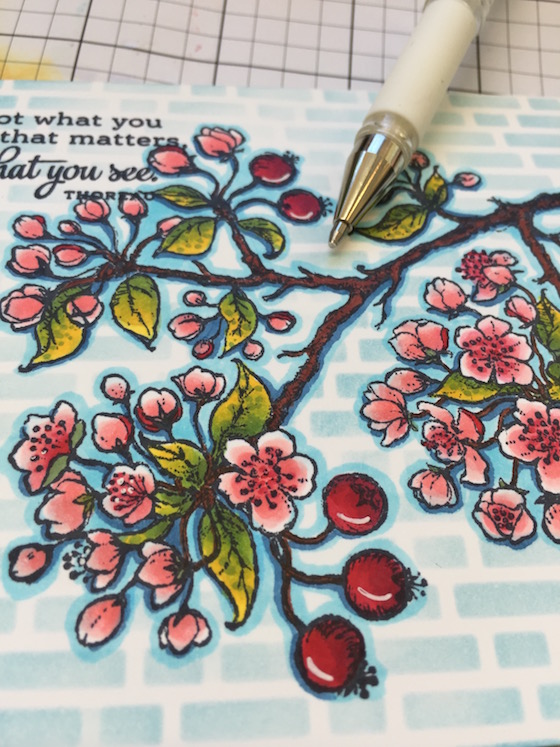 A line was added to the red berries with a white gel pen and a few of the flower centers (I stopped that cause there were to many flowers). By the way I don't store my white gel pen in any particular way.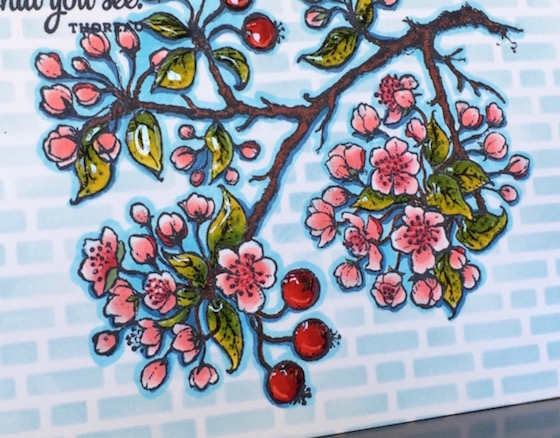 Glossy Accents were added to all of the leaves and the red berries. Be careful when adding glossy on top of a white gel pen. It can smear.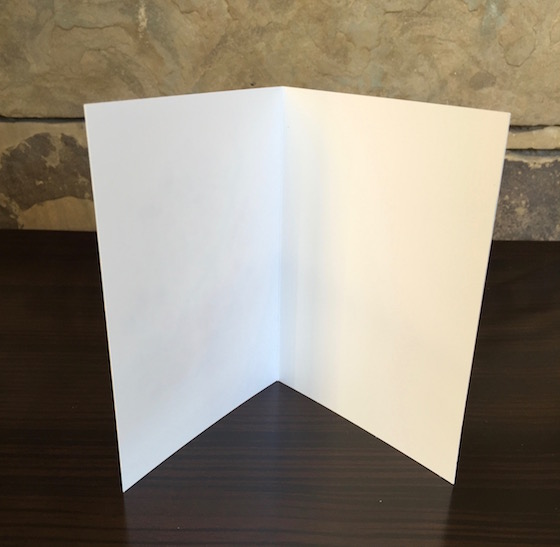 When making holiday cards these top folded cards are #120 and perfect for coloring with alcohol markers. They not only save you time but, THEY DON'T SHOW the copic coloring on the inside. (Now if you have a heavy hand and really saturate your images you might get a little bit of a shadow?)
On another note I wanted to say thanks for all of the comments on my blog. I wish I had time to say thanks to each one of you individually. Those of you who are uploading on my blog… hang tight eventually I will stop by and leave a little love. Thanks to you all for the support by participating, or leaving comments or spreading the word! You guys rock!!!
See you tomorrow 🙂 Hugs, Kathy
P.S. TO LINK UP & share your coloring click here and go to the bottom of the post. In case you missed it you can read all about the 30 Day Coloring Challenge here.
P.S.S.If you wan to see what everyone is submitting for The Daily Marker 30 Day. Click here to see what is being shared on my blog but,  you need to scroll to the bottom of the post. You can click here too to see everything under the hashtag #thedailymarker3day3 that's on Instagram.
Today's Card Supplies & Links: Click on the thumbnail to go to a store. Affiliate linking might be used depending on the product