Hello Friends, It's me again. I spent wayyyy to much time in the kitchen today and what I call "managing the fridge"!  Finally I found a little time to color.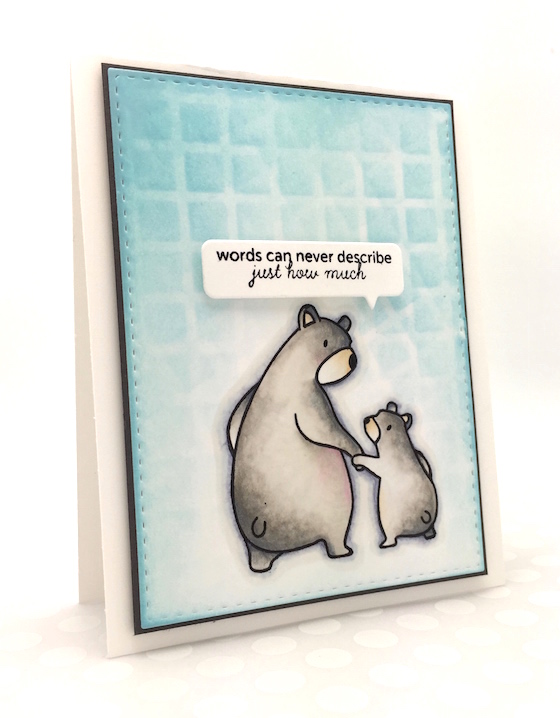 These lovely bears from Mama Elephant are the most expressive stamps I have ever seen. There is just something really special about these bears and the way they are connecting with each other that makes them stand out. (click here to see the matching die cuts) Finally I was able to ink them up and I hope to color them again but, with more time. There's all kinds of fun elements in the stamp set to create a sweet little scene. Speaking of Mama Elephant stamps have you seen this "Photo Bomb" set? It's such a brilliant design and I just can't get over how creative it is. Anyway for my background I used Simon Says stamp grid stencil with some distress ink. I was in luck that my "old" talk bubbles fit the sentiment perfectly!
Below is the Flipagram for my doodle card from yesterday thanks for all of your sweet comments!!

Just in case you missed these giveaways…..There is still time to enter this big ink GIVEAWAY HERE. THIS GIVEAWAY for copic markers is still happening. See you tomorrow! Hugs, Kathy
If you are  new to the 30 Day Color Challenge YOU CAN JUMP IN AT ANY TIME. You might want to read some of the details… Click hereto get all of the info. To share your coloring/projects for Day 16. click here and scroll down for the InLinkz button.