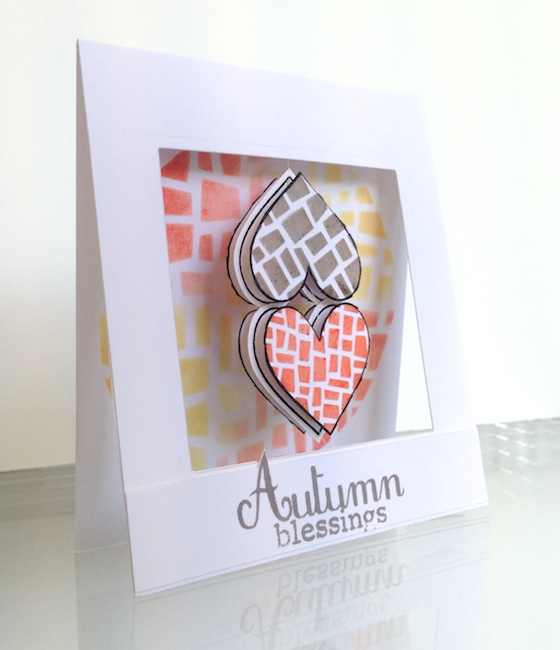 Hellooooo Friends, Happy STAMPtember® !!! TODAY IS A BLOG HOP TO CELEBRATE Simon Says Stamps month long celebration. Before we get started on my spinner card
Did you know that…. Simon Says Stamp was founded in 2002 based on our founder, Heidi's, passion for rubber stamping. It didn't take long until we realized we couldn't stop with stamps. For more than 10 years we have celebrated the art of rubber stamping and are working to bring companies from around the world together in a one stop shopping environment. Rubber stamps still remain the heart of our business and we are celebrating by hosting a "STAMPtember®" event intended to inspire, educate, and celebrate the delight of rubber stamping. Part of the enticement of rubber stamping is that stamps can be used in creating or complementing ANYTHING! From stamping dates on bank documents and postage parcels in the early 18th century, rubber stamping has dramatically expanded to include card making, scrapbooking, mixed media and many forms of altering and expressing art.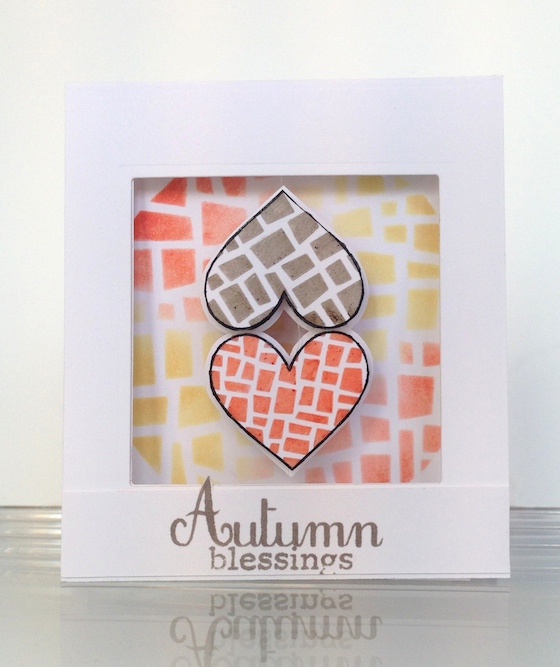 To celebrate I created two cards and a DIY project for todays STAMPtember® hop. I also have a $75.00 GIFT CERTIFICATE to one lucky winner here.
For instructions on my spinner card created with the stamp set, "Lots of Hearts" see below and the supplies will be linked at the bottom of my post.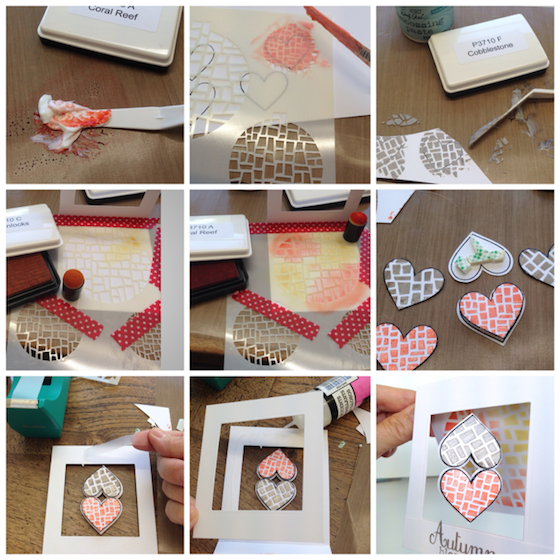 1. Stamp 4 hearts on white cardstock. Put coral reef ink on a craft mat,mix with translucent embossing paste.
2. Place stencil on top of heart. Spread paste over stencil, remove escess & lift off carefully. Repeat on a second heart. Let both dry.
3. Repeat with Cobblestone Ink on the 2 remaining hearts. Set aside to dry. 4. Place the same stencil on the inside of your card. Use a dauber to ink up parts of the stencil with Goldenlocks Ink.
5. Repeat with Coral Reef ink.
6. Trim 2 hearts larger than the stamp hearts. Place string or thread under foam tape. Sandwich and Glue grey and coral hearts together so when they twirl you see different colors.
7. Attach a string with tape to secure it on a window card that you created.
8. Attach another panel on top of the string to hide string.
9. Spin the hearts 🙂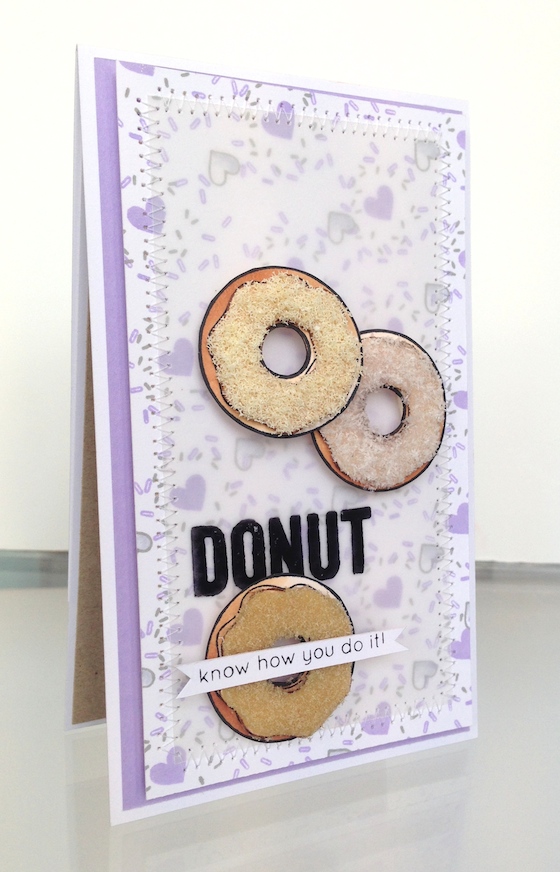 Talk about a fun stamp set … love this "I Love Donuts" sooo much fun. I stamped the sprinkles to create a fun background and added the "Tons of Hearts" stamp set between the sprinkles. A layer of vellum softened the background so the donuts would take center stage.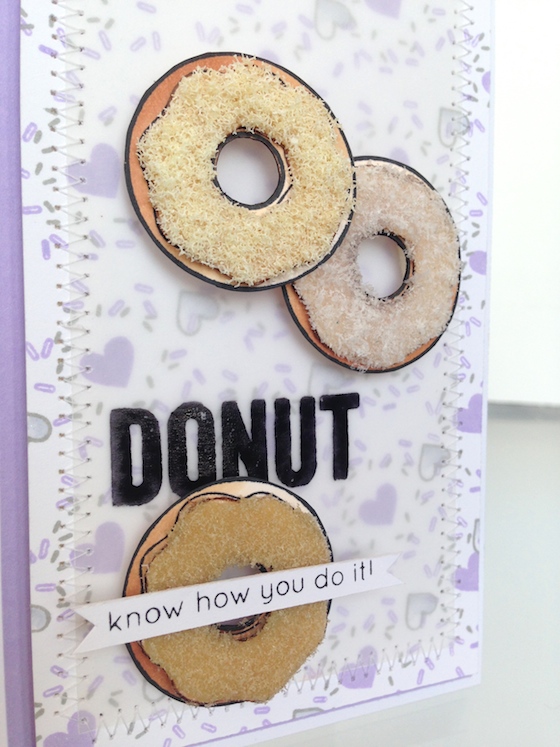 I used Flower Soft on the donuts to create a flavors like toasted coconut , maple glaze and plain coconut.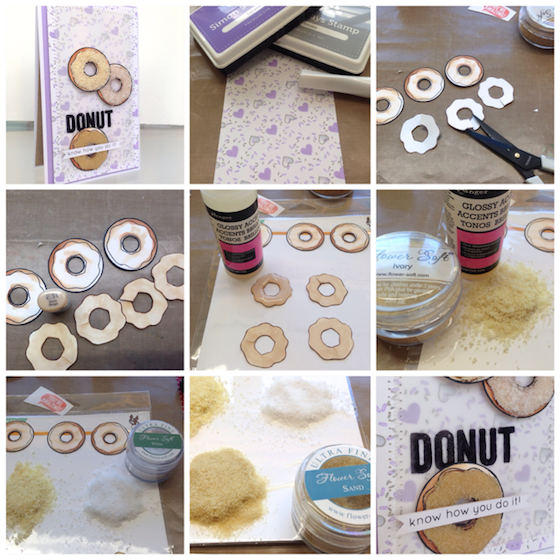 1. Stamp background with Smoke & Lavender ink using the sprinkles and hearts.
2. Stamp the donuts 6 times. Cut 3 donuts out. Cut the "icing" off of 3.
3. Color the the donuts.
4. Add glossy accents to the donut.
5. Coat with Flower Soft and let dry.
6. Repeat  7. Repeat
8. Stamp sentiment on vellum and sew on card base. Stamp other sentiment and cut a banner. Place on donut.
When you need to treat a group of people with a store bought goodie … personalize it by adding hand made flags and let them know how special they are to you. Simons "I Love Donuts" is perfect pared with this useful set to create these special flags.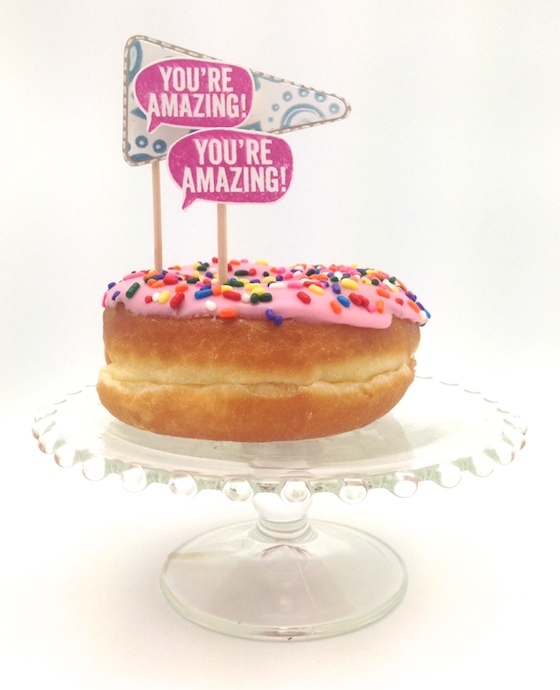 I was able to assemble my flags rather quick using the "Scribble Trees" and coordinating die cuts. Another way to get more milage from your stamps and dies. 🙂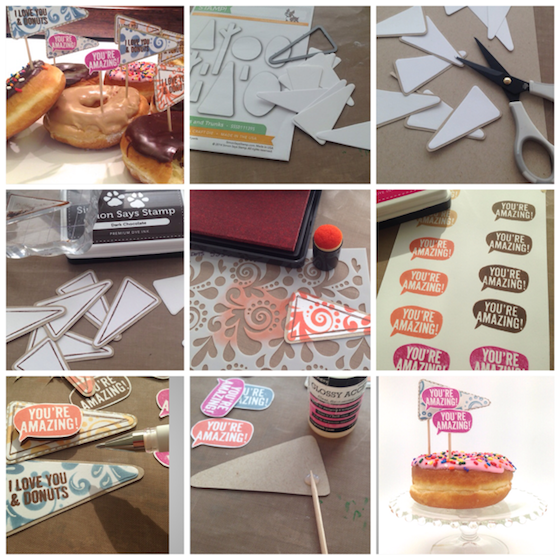 The pictorial above is pretty straight forward. Let me know if you run into questions.
SIMON SAYS STAMP IS GIVING AWAY A PRETTY SPECTACULAR PRIZE PACKAGE FOR EACH STOP ON THE HOP…… EACH!!!!! THAT'S SO AWESOME!!  The package will be an assortment of product from the STAMPtember® giveaway stash! 😉 Woo hoo!
that's an exclusive STAMPtember® prize pack to one commenter on every blog in the hop! So many changes to win!!
The giveaways for the prize pack will close at 6:00pm EST on Thursday September 11, 2014 . The winners will be posted on the Simon blog on Friday September 12, 2014.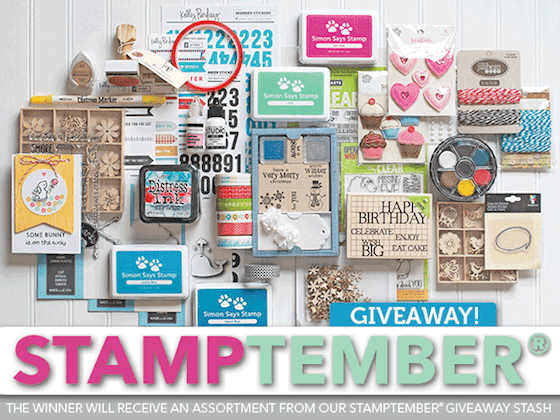 Now it's time to hop to someone who I adore so much the talented Lucy Abrams  Wishing you the best of luck and thanks so much for your visit. Hugs, Kathy
If you encounter any broken links go to the Simon Says Stamp blog here for a complete list of the people in the hop.
SUPPLIES FOR SPINNING HEARTS CARD:
SUPPLIES FOR DONUT CARD:  
SUPPLIES FOR DIY FLAGS: