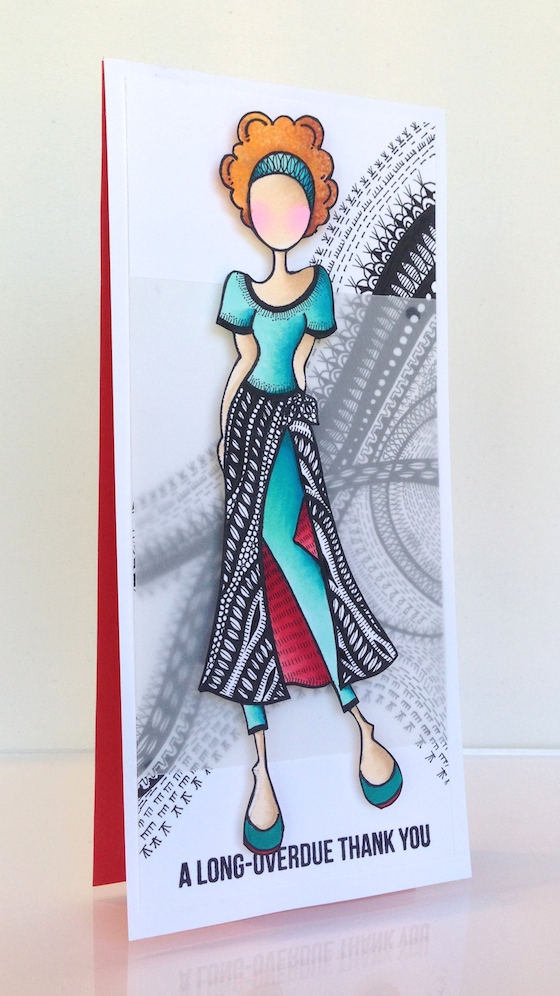 Hello…hello Friends!! How are you? Sorry it's been a bit since my last post…sorry ! I had the opportunity to travel to Utah for some crafty time and it was so fun and inspiring. Now if only there was more time in day to get crafty. Today  I have a quick card and a flash sale. Be sure to scroll all the way down so you don't miss a thing.
It was soooo fun and so relaxing to Zentangle the skirt on this stamp and the background. To soften the background I used some heavy vellum after I finished my doodling.  The sentiment is from Simon and was perfect for what I needed.
When I am in idle mode and a pen is in my hand I doodle. The Zentangle books are what I call organized doodles. If you think you can't doodle something beautiful I would have to argue with you. The beginner book is a great way to start. For this particular image I wanted to add color first. To add texture to her hair I used a rag with some blender solution.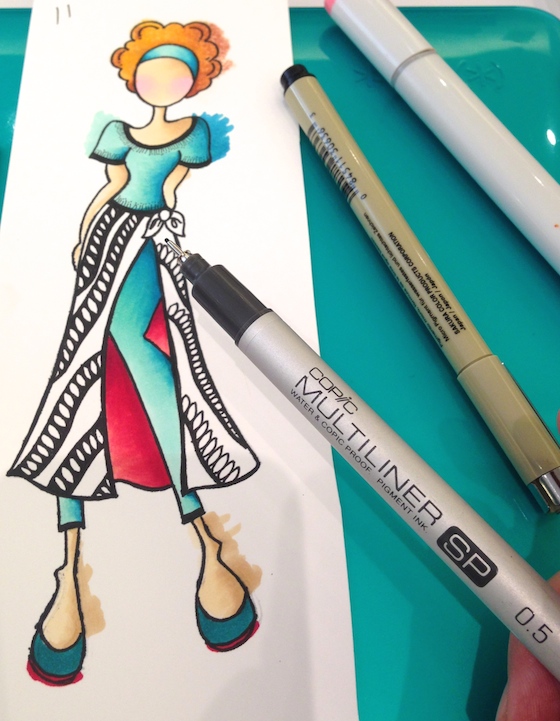 I used markers from this set because the markers have the right thicknesses and a variety too. For the thicker lines I used this but, you can use anything.

To use the smaller dash looking lines is an example of a thinner marker….a more detailed marker. It's amazing what just some dots and dashes can do. Below Online Card Classes are having a first time EVER sale.
CARD SUPPLIES & LINKS: click on any of the thumbnails below.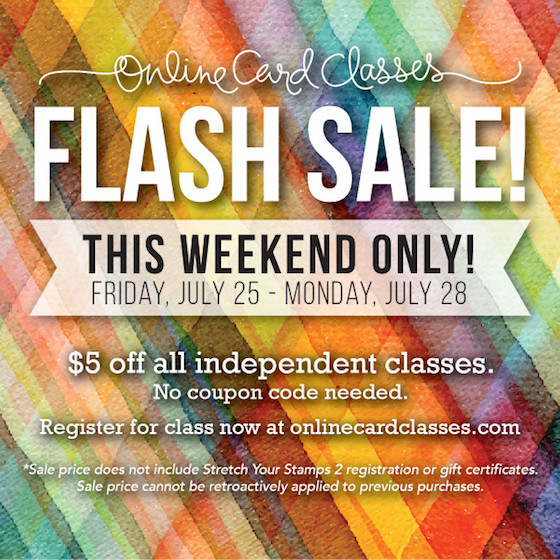 For the first time ever, you can take any (or all) past Online Card Classes at a discount! They are offering $5 off each of "our previous independent card classes" — no coupon code needed, just register for the classes of your choice. Tell your friends! Now is the perfect time to stock up on inspiration! Visit Online Card Classes to join us.
If you haven't taken on of the Online Card Classes this is the time to take advantage of this sale. Trust me you will be awe inspired with videos, amazing cards and incredible value.
Soon I will be giving away a spot in the newest class "Stretch Your Stamps Two" Have a great weekend and thanks for your visit. Hugs, Kathy