Hello Friends, How are you?? Any exciting plans for the weekend? We are heading to the beach…can you believe summer is over ?? Which means it's official my DD is a senior!! So many good things happening. 🙂
I have been itching to make cards with 
these
 absolutely adorable owls from Penny Black called "Moonlight Owls"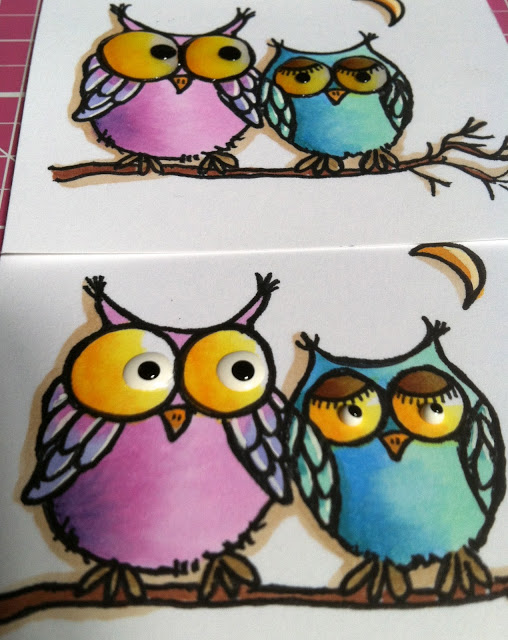 On most images I alter the eyes in some way …so I thought I would share some of those details today. Almost always I enlarge the eyes with a black Sharpie marker. On the second owl I drew eye lids and lashes. I also LOVE to use Glossy Accents and or Enamel Accents on the eyes. The second pair of owls above I added white enamel accents and waited for them to dry. After they were dry I added black enamel accents ON TOP of the white. So dimensional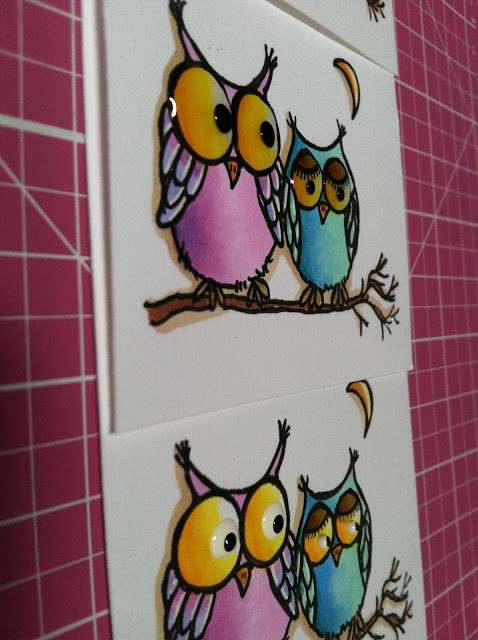 The owls at the top of this photo (above) I applied a thick coat of glossy accents. The next day I added black enamel accents ON TOP of the glossy accents. You have to be careful and practice on a piece of scrap first…be sure to get all the air bubbles out too. THIS IS MY FAVORITE…today! 
In this photo all I did was add the enamel accents. Don't get me wrong…I love this look and use it often but, I love the layering of the liquids. Which is your favorite? 
Many thanks for your visit today and hugs, Kathy
P.S. the STAMPTEMBER activities begin Sept 1 at the Simon Says Stamp's blog. Have you seen SSS's exclusive stamps & dies?? Check them out here.