Hello Friends, How was your week? It's amazing to think Friday is here already but, don't get me wrong I am happy the weekend is here. Today on the

Lily Pad blog

Virginia has posted an inspirational photo to get your mojo going & the DT has created beautiful cards to help with that mojo too.
Letraset is sponsoring Lily Pad for this challenge. The DT was lucky to get to test Letraset's alcohol markers with a brush tip.
I love the vibrant colors and
I love flowers so this card is what I ended up with using the photo as a jump start. This transparent set of flowers is from Penny Black, the critters are from Purple Onion and this sentiment sticker is from SRM stickers.
(all supplies listed below this post.)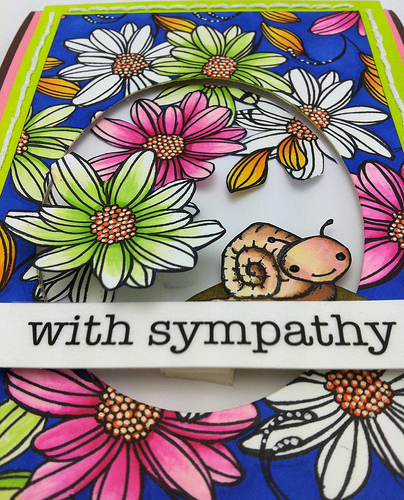 By the way have you "re-inked" your stamp pad lately, I just got this and it made such a difference so I thought I would share in case you haven't re-inked recently. The hand stitching was easy with this foam pad becasuse its so easy to pierce the card stock before I sew. After I masked my flowers with this, stamped, masked and stamped again I colored my new stamped background. I decided to use an oval Spellbinder to give me some dimension and more interest. After cutting an oval in the center…I cut the some of the flowers out of the center to use on top of the white background. White dots were added to the flowers centers. Let me know if you have any questions & if you like you can refer to this video. I like to call this technique "palette blending" that I used to color the flowers.
Now are you wondering about the title of this post? "What to do with those smudges?"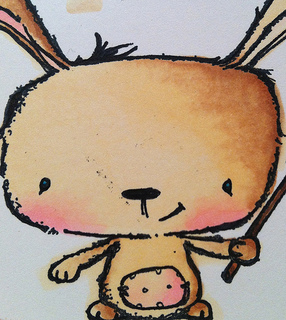 It's been awhile since I have gotten a smudge this bad but, I was determined to use "Poppy".
When in doubt…cut it out

.
Literally!! I sliced her down the middle and added her to my card peeping out to cheer someone up.
Here
is another card with a shared smudge (tips are all the way at the bottom.) Any plans for the weekend?? I hope it's a good one. Thanks for poppin in 🙂 Hugs, Kathy
CARD SUPPLIES