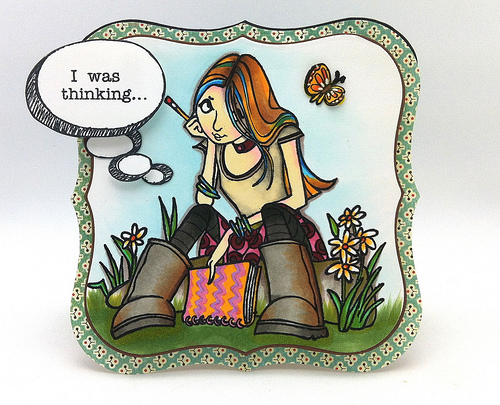 Hello sweet friends, anything new?? Our friends daughter won in an incredible award at UVA yesterday so I thought this image called "…Journal" from Penny Black was perfect for her.. I had so much fun coloring her with Copic markers & I used the markers to create the chevron pattern on her notebook. I have been seeing so much blue hair in the media I thought it would be fun to give my image some streaks of blue. The beautiful patterns and colors on the Basic Grey papers called "Hello Luscious" were young, fresh & perfect!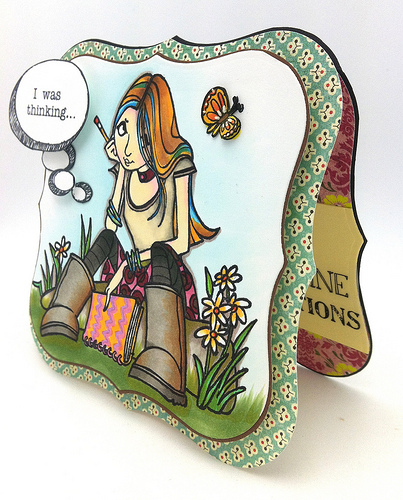 Through the years I have always enjoyed some good conversation bubbles to use on my cards and these are great because these come with messages that FIT inside. Love how they look hand drawn too. I also darkened up the lines on the top of her eyes so she looks like she has lots of eye liner on like some teenagers like to do?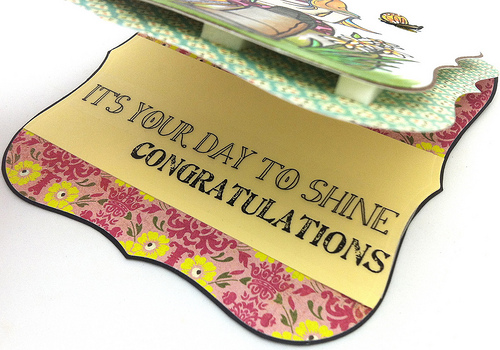 For the inside I had to use my "go to" sentiments from SRM stickers. Nothing better thank looking on one sheet of stickers for that perfect sentiment. Speaking of my "go to" …. this die is my "go to" when it comes to easy and quick with a simple shape. I listed a few of the copics I used below in the supply section. Just in case you are wondering what my paper preference may be for coloring?? it's this. I hope you are enjoying your weekend and I so appreciate your visit. Hugs, Kathy

P.S. I think it would be fun to create a dusk scene with this image creating a full moon like I did in this post.
P.S.S. Did you leave a comment in this post to win a Simon Says Card Kit?
Card Supplies: