Hello Friends, How are you today?? I am starting to panic about Christmas but, right now that will have to go on the back burner. Today I have a video for you 🙂



You just might find this video on the Simon Say's Stamp blog too *wink. Penny Black is feeling festive because they are giving away some of their BRAND NEW Valentines stamps & you can win TWO ways. ALL YOU HAVE TO DO IS: Leave a comment here and  OR at Simon Says Stamp this way you have TWO chances to win these new elegants stamps from Penny Black. (see photo below)
Today's video "It's In the Details" Is a Two Part Video featuring the new alcohol markers from LePlume. Part 1 Features very simple coloring and blending. Part 2 will be featured next Friday and it's using the same markers but, with more advanced blending. Keep in mind this is my second video and I still have kinks to workout. A big thank you to those of you who subscribed to my video.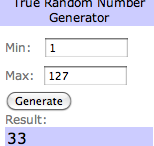 THE WINNER OF MY latest GIVEAWAY IS  Kelley Booth …A big congrats to Kelley!!!! 
 (you can click here to what the contest was.)
Another way to enter more to win these stamps you help spread the word about my video with a link on your Face Book, Flickr, Blog, or Twitter  etc. 
AND OR subscribe
 to:
 "The Daily Marker's"  UTube channel you have more chances to win.  Each time you spread the word leave me a comment so I know. I will select a winner the end of next week.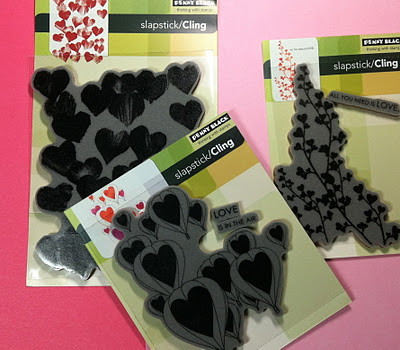 These are the NEW stamps up that are up for grabs from Penny Black.Don't you just love them. The Mix & Match card stock is included with the three stamps. 
This is my card for Part ONE card for today's video. The feature is simple coloring and you can hear all about it.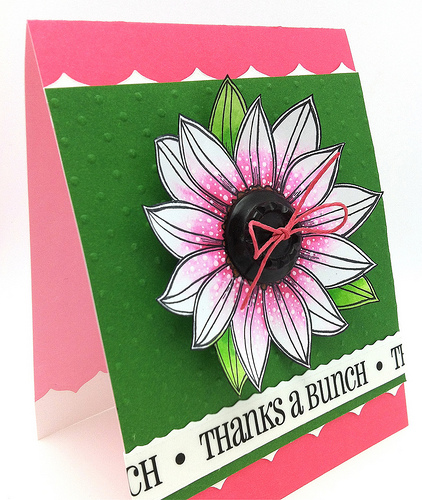 The button is vintage and the sentiment is from SRM stickers. Notice the sharp boarder in white? It's the negative from the inside boarder when I cut it out. Make sense?? Is there anything you are looking for in a video from me?? Just send me an email I would love to hear our suggestions. 
These are the LePlume alcohol markers that I am featuring in these two videos.
Today's card LePlume markers are: P785, N900, E866, E869, G655, & G653
I hope I covered everything and I hope you are enjoying this joyous time of year. Thanks for taking the time to visit my blog. Hugs, Kathy
P.S. 
If you are a Penny Black Club member you get sneak peeks of stamps before they are released for starters..you can read about it 

here

 and sign up too.
CARD SUPPLIES: