Hello Friends, A few weeks ago a package arrived at my door and it contained lots of goodies from FABER-CASTELL!! I felt like the luckiest gal on the planet. Today &tomorrow Penny Black will be showcasing what Elizabeth and I created with FB. I think you will want to check out FABER-CASTELL'S blog too but, before you go I have two cards to share.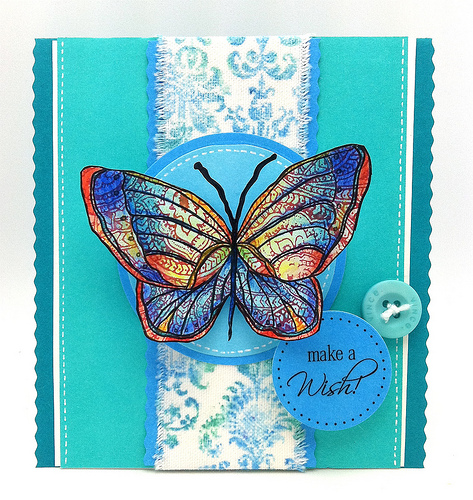 If you take a little time to get use to the gelatos you will love the richness of the colors. On both cards I used the gelatos on stamps to create these rich backgrounds on canvas. I applied them directly to the stamp and spritzed with water. I used Penny Black's paisley background with the red big brush marker on the butterfly.
I admit at first I didn't like the pastel pencil that came in this variety pack but, once I used it on this butterfly I fell in love with these pastel pencils! I want every color!! I know some of you aren't comfortable blending…well these pencils are for you. All you do is color an area and use your finger to pull the color further down into your image. Does that make sense??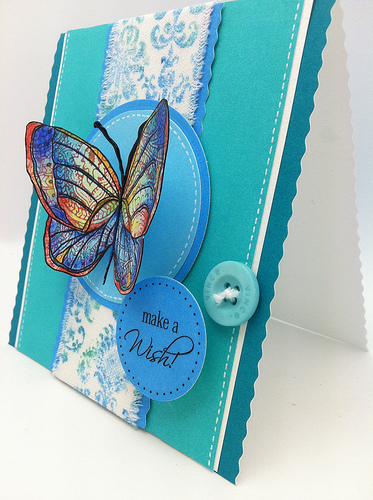 The sentiment is one of SRM's new releases. Love the script!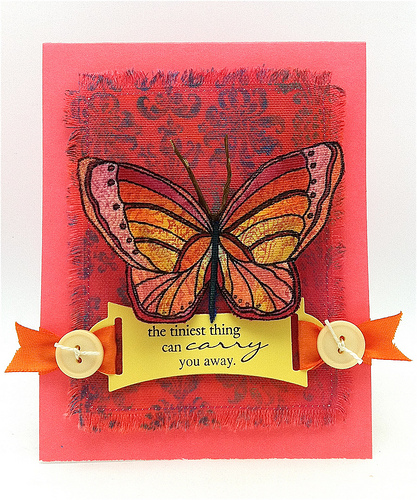 You will be seeing more cards with these Spellbinder ribbon tags … LOVE them! I have had these for a while and I don't know what I was waiting for but, now I am smitten!
Do your kiddos like grapes?? Do you?? Well…next time around pick through the vines for some good "V" shapes to use as antenna as I did on this canvas butterfly.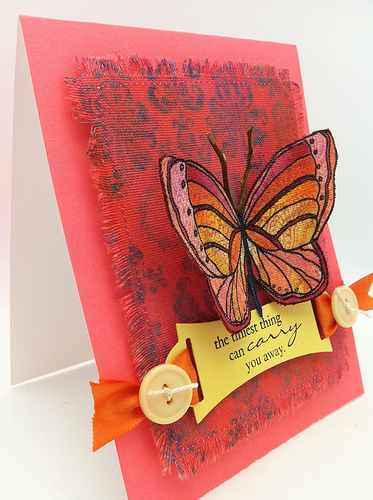 I used Glossy Accents to adhere the grape vine to the butterfly. Really love the look!
At the top of this photo you can see two colors of gelato that I took off the tip of the tube and directly onto the counter ( I was on vacation and forgot my craft mat) I added a little water applied directly to the canvas with a paint brush.To much water will dilute the color if you want a soft look.
Once I was finished painting on the gelatos I use the big brush marker directly on the stamp. Add a little spritz of water and stamp directly onto the canvas. I also traced over the lines with a fine tip Sharpie marker. See the right and left side…that illustrates the before and after.
All of the stamps are listed below in the supplies.
Let me know if you have any questions. Before CHA I get to take the Copic Intermediate class with Debbie Olsen!! I can't wait. Do you have anything fun on the horizon?
Have a happy day. Hugs, Kathy
P.S. Scroll down to see another technique that I used with this same butterfly or click here. Here is a solid green butterfly I created in January.
SUPPLIES: