Hello Friends, I hope you had a great weekend. Today it's my turn on the Penny Black blog so I created TWO cards for you. This weeks challenge is all about frames and borders.
After cutting my die cut frame on this card I used the negative image to create another framed card for my second card.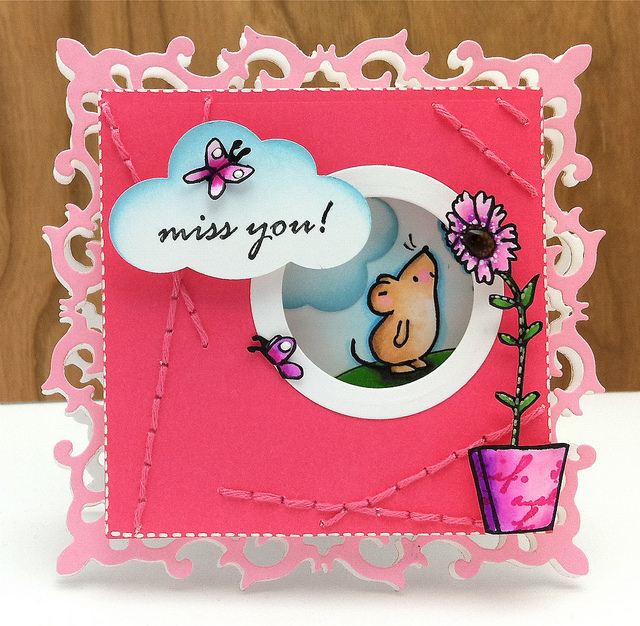 Before we get started I must tell you that the Sew Easy is back in stock here. I used their piercing mat and the Sew Easy tool to score the random lines on the front of my card. The mat works better than a mouse pad for me because it has lines and dots to guide me. Love the color too and the threads. (no this is not an ad for the Sew Easy) After I pierced and completed my sewing I set it aside to finish the frame part of my card.
(Here is a tutorial if you would like on on the Sew Easy..it really is easy )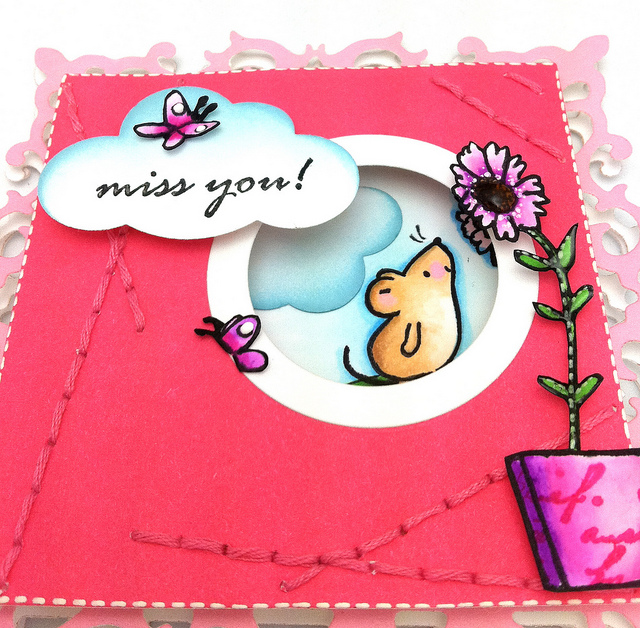 I hope in the next photo might clear up any confusion?? Below you will see the supplies too. I colored and cut my images, punched my clouds and glued the image the white card base. I also cut another Fleur De Lis square from Spellbinders and scored it an inch from the top for the back of my card.

I used some foam to raise the "window" off of the card to create my little scene. The flower and flower pot I used Tombow markers and stamped onto the pot. The mouse and background I used Copic makers. Did you see my hedgehog coloring tutorial here. You can apply the same tips on the mouse.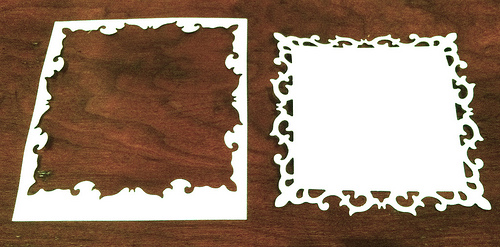 This photo shows how I created the negative image for my card below. After die cutting the Fleur De Lis from my rectangular card stock I thought why not create another card with the negative. In this photo the flower does not touch the sentiment…I just have to point that out…lol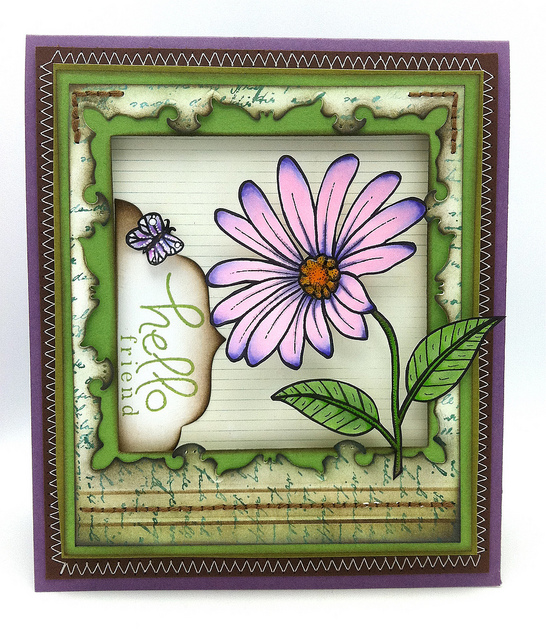 Keep in mind the negative is more fragile so you want to pace yourself & not work as quickly as you might usually. I inked up this letter background stamp with some distress ink and stamped on my negative. Use a sponge dauber for small areas like this to add distress ink (walnut) to highlight the pretty pattern on the negative edges of the Fleur De Lis square die.
Before you mount the negative on some green paper add some more detail. Score some lines, sew and distress your scored lines to add more texture and elements to your card.
Also prepare your sentiment before you glue down all of your elemtns on your card. I used this die cut for the sentiment. Distressing the die really adds to it too.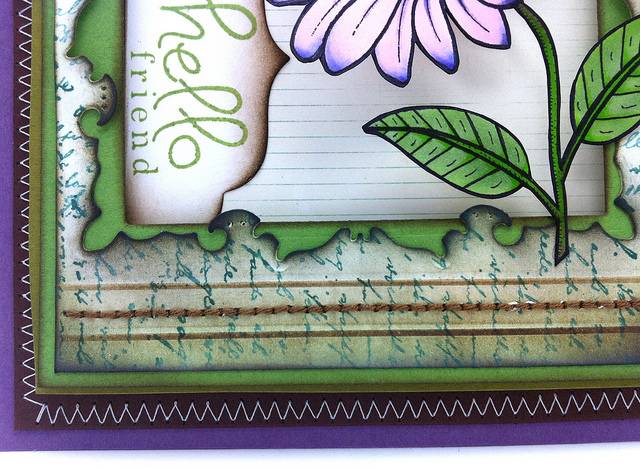 I added some hand stitching to the corners to carry up the design and add to the overall balance of the card too. It's so quick and easy and worth the extra effort.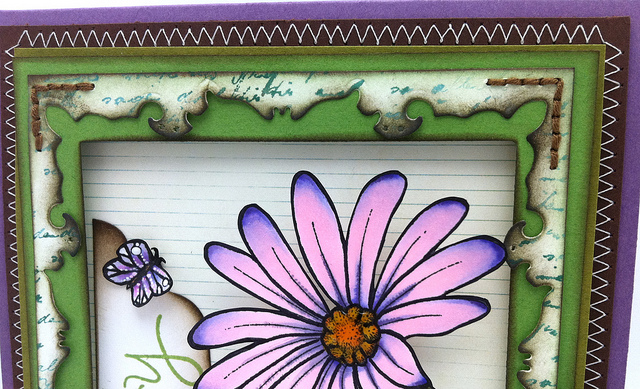 I love Glossy Accents and use it on every card. Now Glossy Accents is available in small containers finally. I added some to the center of "Cheerful" flower from Penny Black. This flower was colored with Copics first and I added some highlights with Tombow markers.
I will be back tomorrow with two more cards for this weeks challenge at the Penny Black Blog.
Did you add your name to this list to enter for a chance to win a $25.00 gift certificate to the Simon Says Stamp Superstore?
See you tomorrow and thank YOU for visiting. Hugs, Kathy
SUPPLIES: just click on a thumbnail to see where you can purchase.