Hello Friends, I hope that your week is off to a good start. It's hard to believe that it's Wednesday already! This card was created for the Penny Black blog and it's being featured today.
Before I get started please stop by tomorrow, I think you will love my new blog candy and it will be the last "Trio Challenge" with Jennifer and Lucy.
Believe it or not, these buildings are from Penny Black's Christmas 2008 collection. I prefer to use this "cityscape" as an everyday stamp or for those men in our lives. These buildings are so easy to cut and layer for a nice and dimensional effect.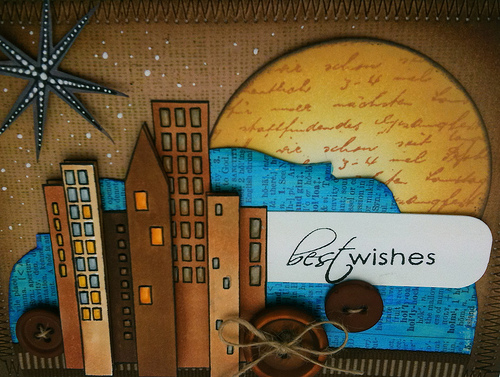 "Best Wishes" in your new home. I considered printing the "in your new home" part from my computer and decided that I would go for the more home spun look. I also like to show the main stamped image on the envelope or inside the card so they can see what the "before" looked like.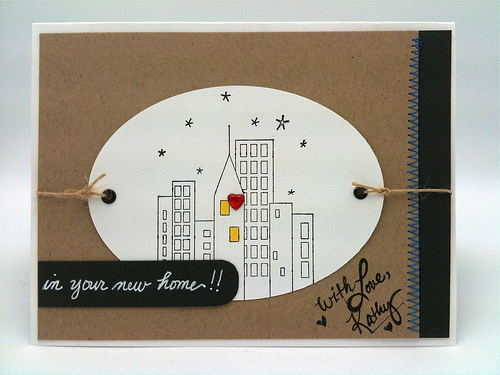 Card details: Use the Tim Holtz die as seen below and cut the shape from scrap paper. At the same time cut an old vintage book page and glue on top of the cut scrap. Coat the paper with any bright color of Twinkling H2O's, set aside to dry. The background brown paper is from Basic Grey and I added some walnut distress ink and stitched around the card. Cut a 3″ circle from white paper and distress with wild honey, and walnut on the edges to create the "harvest moon" . Stamp in wild honey the script background. Color the buildings and cut apart in sections. Apply glossy accents to the windows. (looks so dimensional in person! )It's super easy to make stars in the sky with white dots.
NOTE: If you use water color paper for your die base you won't get any warping like I did.


If you are new to Penny Black they are hosting an exciting contest called OCTOBERFEST and the price is $100.00 in stamps of your choosing. Click here for are all of the details. Thanks for stopping by I really appreciate it. If you have any questions just send me an email. Be back tomorrow. Hugs, Kathy
Supplies: (click on the photo for more details)